I am a great lover of having enough light to see what I am doing and being of a certain age my optics are not as sensitive as they used to be.   I have fitted Ebay sourced Angel Light ring car clusters as illumination lights on my pillar drill press and on my Myford VMB manual mill.   The arrival of the Tormach PCNC440 got me thinking of doing the same.
As luck would have it I had a 120mm OD ring light left over from the VMB installation and this was just about dead right to fit the Tormach 440 spindle diameter.  All it needed was a mounting boss.
On the drill press and on the VMB I machined up a boss in Acetal which left a mountain of swarf and I was not looking forward to another session vacuuming out the lathe.   Then the thought struck me I have 3D printing so why not print a boss ?   It is quite funny how you get locked into one way of doing things and then you step back and realise there are more ways to skin the cat.  (Is that a non PC thing to say these days ???)
Booted up Fusion 360 and one extrude pull and two extrude cuts plus three clamping screw holes had a design ready to print.  Print time on the Sindoh was just under 4 hours but this would be longer if the central hole for the spindle fit is smaller.  The final product  looked a lot more professional than the Acetal ones I had previously made.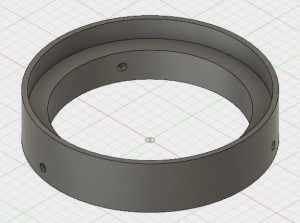 It also fits like a glove and the three M5 nylon screws lock it in place.   I just need  to find a 12V plug top power supply to power it.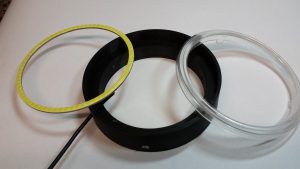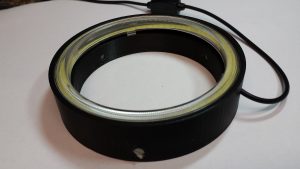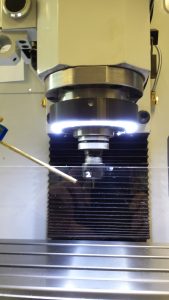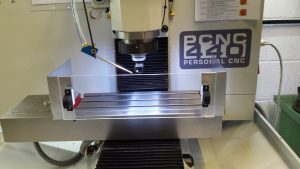 If you would like the Fusion STL or the link to the Angel Lights on eBay let me know.  I have the STL file for the 3D printed small enclosure to suit the regulator for the Angel Lights from a 12V supply.
I also have the Fusion file for the handles on the magnetically mounted perspex front shield as seen above.   The handle mountings have 45mm centres to match the magnet plates which are standard UK sourced magnetic latches.
Update : –
While producing a ring light for a client I tried mounting the ring without the plastic lens that comes attached to it.   The lens focuses the light forward but does not allow spreading of the light and there is some attenuation associated.   Conclusion is to leave the lens off in future.
The other conclusion is to go for the largest ring light you can tolerate for your machine so the light (without the lens) has the chance to diverge wider and illuminate around the tool in use much better.  On EBay the most common large size is 120mm OD.   They are also available on Amazon.
Similar or related subjects : –