Some time ago I saw an advert offering a big discount on a SDS Rotary Hammer drill from a local tool store.   I had no idea what a SDS drill was but one of my associates convinced me it was a good deal and worth getting.  Looking like a weapon out of Star Wars, it has since sat under the bench in its carrying case and never used …. until today …..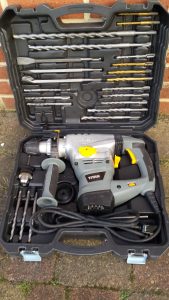 I had to fasten a new garden hose to the external wall through an outer cement facing and into brick.   Normally if I can see the mortar between the bricks I cheat and fasten into the mortar.   Today however I could not see what was behind the facing cement and the hammer setting on my normal hand drill was making no impression.   Light bulb moment …. let's try out that SDS.
The wall could have been made of cheese such was the speed that the holes were cut.  Lovely machine.  If you haven't got one – get yourself a SDS !
Similar or related subjects : –