A Storage Tip
I am quite anal in needing to have a tidy workshop with everything having a place where I can find it easily.   It is a kind of insurance policy to perhaps give me a bit longer time in the workshop before I lose the plot altogether.  (The less palatable advantage is the dealer who comes in to clear my workshop when I am in turn in 'a box' can easily see what a treasure trove he has stumbled on.   We'll move swiftly on from that thought).
To this end I have settled on using 5 Litre storage boxes for all my 'stuff' (technical term as defined by my long suffering wife).   These are readily available in the UK at Dunelm and on the net.   They are made from a very durable plastic and supplied with a lid which is rarely useful for my application.  I believe they are principally intended for ladies to store their shoes.   I suppose we could call them Marcos boxes ?
The boxes have a 6.5″x 12″ footprint and are 4″ deep.  It is surprising just how much workshop kit can be stored in these (and of course nicely labelled).   The 12″ is just not long enough for 13″ silver steel but a little hang over can be tolerated for such useful material.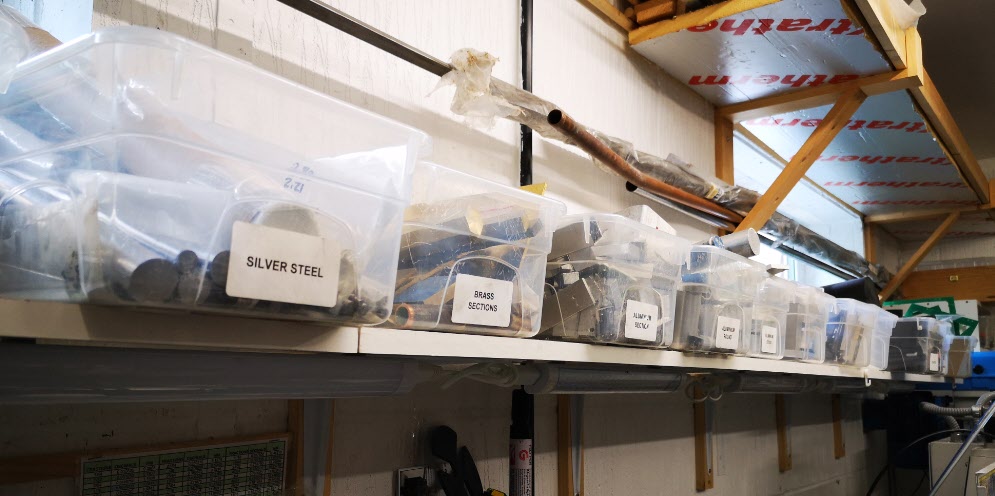 I have accumulated a reasonable (by my standard) set of Tormach TTS tooling collets with my preferred tools permanently fitted.   These are each numbered to match my tool table entries in PathPilot.  The numbering is done using an Edding 750 white paint marker.
My solution to storing the collets was to use Marcos boxes.   I used a sheet of Dural (150mm x 290mm) and punched a (3 x 6) matrix of 20mm holes into it to take the collets.   The Dural sheet sits on 5 off 10mm diameter x 36mm long spacers.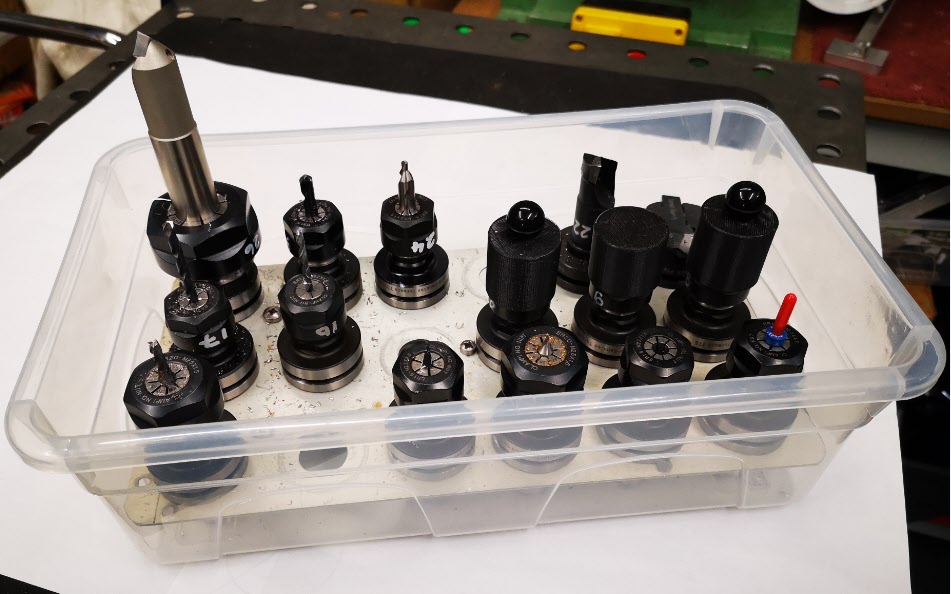 To give you some idea of the strength of the boxes,  you can pick up one of these fully loaded with tools by the front wall and your wrist will break before the box does. (Well you know what I mean).
You will notice in the above photo that after some expensive clumsy breakages I now fit 3D printed caps over the most fragile tools such as carbide PCB drills.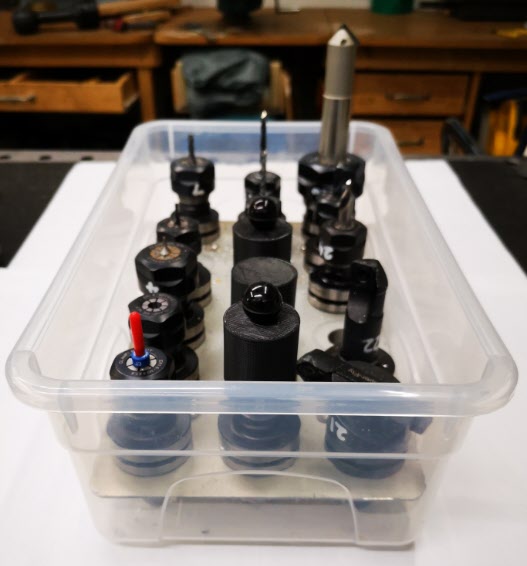 So a bit of a slow news day but thought this might stir an organisational initiative somewhere ……  
Similar or related subjects : –