Last week we had the hottest day in the year so far and I had a couple of jobs to complete in the workshop.   Not ideal but with the doors open I had a little through breeze.   I had lots of aluminium to chop to length and my Femi NG120 bandsaw was doing sterling service.
A few days later when I needed to use the Femi again it was dead.  Not a spark of life.   I buzzed out the electrics and the trigger switch, emergency stop and end of cut switches were all working fine.   
My conclusion was the motor controller had failed.   This is a potted electronic assembly that sits on the end of the motor assembly inside the top of the motor housing. I measured various voltages with and without the trigger switch in action and sent the details off to Stakesy's who is the UK distributor of Femi (the saws are made in Italy).   As bad luck would have it my bandsaw was a few months outside of a 12 month warranty.
Stakesy's sent off the details to Femi and after some email interchanges Femi agreed to supply a new motor controller module free of charge.   This arrived in the post a few days later.   It was an easy fit, just four wires into a chocolate block and the bandsaw sprung back into life.   My hacksawing arm muscles breathed a sigh of relief. 
As mentioned earlier,  the motor controller module is a plastic moulding that has the electronics potted into the moulding.   There are some parts proud of the potting compound but in the main all is submerged.   With hindsight I wonder if something failed with the high ambient heat it was subjected to on my hottest day activity.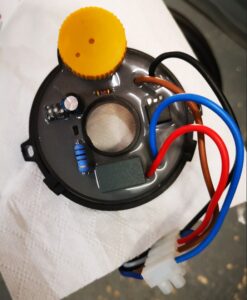 Great service from both Stakesy's and Femi.   A big thank you to Matt and Alex for getting my NG120 up and running again.
Similar or related subjects : –