I always had a desire to visit France.  This was probably as a result of my mother's ability in French which fascinated me.   As a family we first visited in the 80s taking holidays in the Vendee area. There then followed a gap until mid 2000 when having taken up golf we decided to try a golfing holiday in France while also touring down the west coast.
The first golfing stop was Château de Bretesche near Missilac.   This is a lovely course set in the grounds of an old but impressive chateau.  The club has a number of houses to rent and has a good restaurant offering in the clubhouse.  Adjacent to the club is a Relais & Châteaux plush hotel for those wanting a bit more luxury.
Down nearer the Loire we played Sable Solesmes which as three 9 holes courses and this is equally delightful.
Not connected to golf but a wonderful visit was to Ile de Noirmoutier and also Ile de Re both of which sit off the coast and are connected by causeways.  Both have a sense of being frozen in time and are well worth a couple of days to explore.
Our final stay was at Souillac Golf and Country Club which has a short but tough 18 hole course in the heart of the Dordogne.  The club offers Swiss style chalets to rent and these are set in clusters around the course.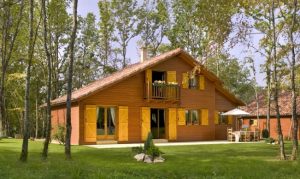 We liked the course and the surrounding area and subsequently, when funds became available, we bought a property in a local village.
We have now been visiting regularly over the past 3 years.  It is total French immersion as our new neighbours in the village speak no English and the husband has a severe local dialect which makes his French very difficult.
Visiting France gets me out of the workshop and away from it all with time to think and plan.   We do have a good internet connection though so Fusion is only a keyboard away.