Sorry it has been a bit quiet but we had three weeks in France albeit with not the best of weather.  As ever a few jobs on the list and some new experiences.
The village where our house is located has always had very ambiguous addresses such that deliveries were a nightmare unless by Post.    The parish council decided to solve this with a 'numerifcation' and tasked a local man to decide on street names.   Given that there are probably less than 200 properties in the whole village and very few of these in our road, we were surprised to be allocated number 436.
On arrival and taking a wander round the village the numbers appeared totally erratic and certainly not conforming to the norm of odds one side of the road and evens on the other.   It then dawned on me that the numbers were related to the distance from the starting point of each road relative to the village centre.  We were therefore 436 metres along the road from the first house.   A quick cross check on Google Earth confirmed this as the distance to the centre of our gateway.
Now you could label this as French perversity but I think it is rather elegant.  Deliveries can now find us easily and if someone does a barn conversion mid street a new unique number can easily be created rather than 6A or similar. The council provided us with rather nice enamelled number plates and these match the new street name boards.   We noticed on the drive home that one or two other villages we passed through seemed to have had similar initiatives.  No doubt Macron will claim credit.
The first test of the new address was when I ordered a garden shed (abri de jardin) from Alice's Garden and it found us successfully.   The aim was to have a storage shed for our ride on lawn mower.   The shed was a bit on the low cost side but did arrive OK in two flat packs.   When opened up it all seemed a bit flimsy.   Two of our friends had arrived to stay and they got roped into putting it together.  The instructions called for two people and predicted 2 to 3 hours work.    It took four of us a bit longer than this and lots of self tapping screws later we had a shed.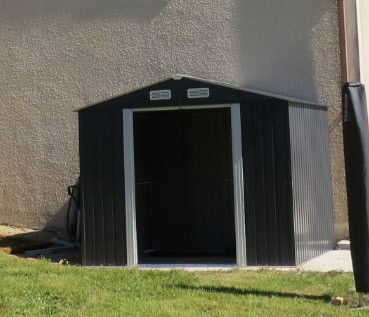 Given the flimsy nature of the materials it was surprisingly sturdy. The one flaw in the plan was the mower would not go through the door …. I had measured across the wheel width and not across the cutting bed.  We left our friends with the challenge of solving this minor issue …. so far they have managed to widen the door opening and it now needs a new enlarged door.
We had also ordered an electrically operated sun awning and this was installed while we were there.   This is a seriously heavy piece of kit that the two technicians were struggling to lift between them.   The installation involved mounting three plates on the house wall and then 'dropping' the awning housing onto these with retaining fastenings.   Because of the style of block work used in France they tend to use chemical based fixings for anything substantial that needs mounting.   The technicians arrived, measured up, drilled and chemically bonded 12 lengths of M12 studding into the wall.   After the prescribed setting time they attempted to mount the plates only to find their logistics team had supplied them with left hand thread studding and right hand thread nuts.   Much French cursing ensued.   
Out came the angle grinder and the studs were chopped off.   Rummaging around in their van they found some more right hand thread studding, re-drilled and re-bonded this in place and finally got round to mounting the awning – which was a real struggle to lift even with three of us wobbling on ladders.   They didn't leave until gone 7pm so not the most cost effective installation quote by the salesman.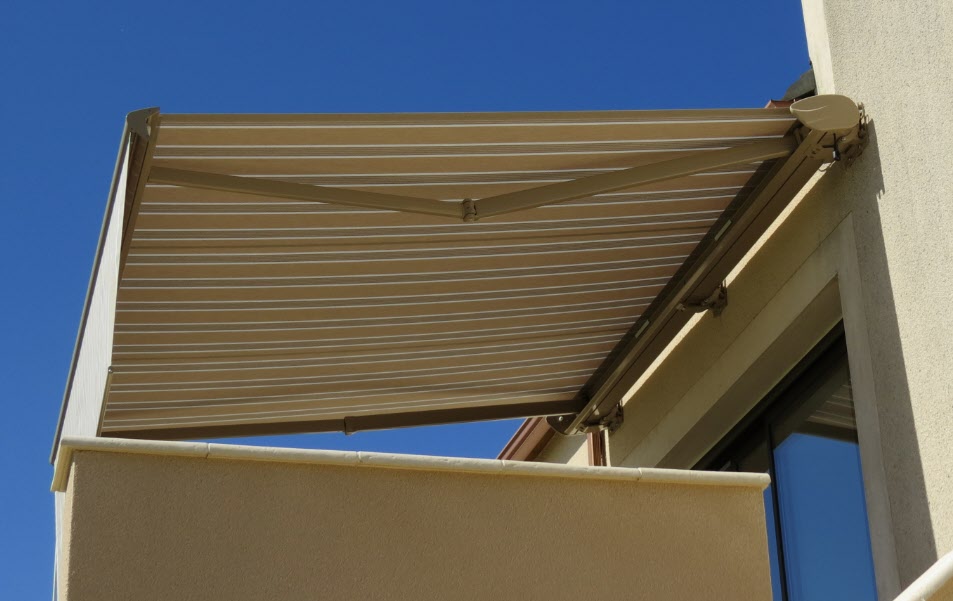 This excitement apart we had a good stay with a round of golf at Souillac, a village festival and an excellent meal with our neighbours and their extended family.   The house is looking pretty good now and perhaps next time we can just relax with nothing on the 'To Do' list – perhaps.
Similar or related subjects : –