One obvious and one more specific
If you already know these Fusion 360 Preferences tips then well done. If not check out below.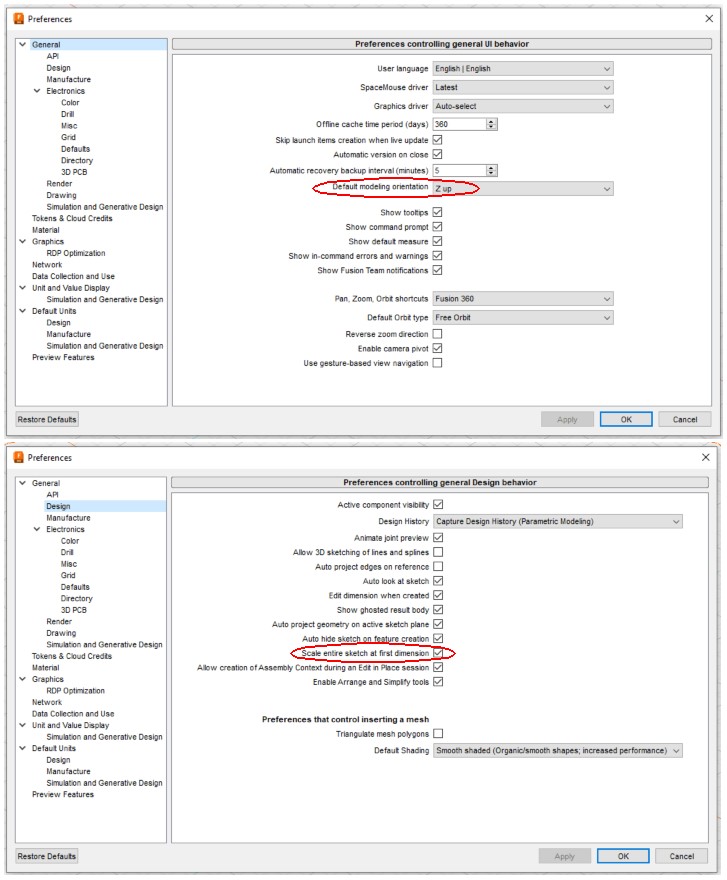 The first one is to set the default orientation to be Z up so your CAM output is already well on the way to being correctly configured.
The second one is not so obvious – scaling the entire sketch based on the first dimension you specify. Suppose you have an object that you want to draw to scale based on a photograph image. If you import this using Insert/Canvas you get a faint image of the photograph over which you can superimpose your sketch. Once you have created the sketch you can then draw a construction line that runs from any two extreme longest points of the sketch. Measure the distance on the real object and then specify this dimension on your sketch. Everything on the sketch will now be scaled accordingly. So useful ….
Probably the best example I have seen of this was by Clough42 in this video about his construction of a depanelizing tool for PCB biscuits. He has done a further video recently using the same technique with dual axis images. This is impressive to watch.
Minor update on the Qidi i-fast to say all is going well and I am getting some very good print results. I am still debating which slicer to run with and do seem to be getting more repeatable prints using Simplify 3D.
Links to similar or related post are listed below : –