Quite some time ago I posted about the fact that I had bought a package deal of the wireless 3D Connexion SpaceMouse and CadMouse devices.   Since then I have come to cherish the SpaceMouse and would be lost without it.   It makes modelling in Fusion 360 an amazing experience.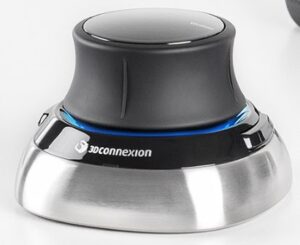 Since using this combination I had been experiencing an irritation with the CadMouse lagging and twitchy/jerky in its action.   This is not always present every time I use the combination of these two devices but you could guarantee it would raise its head when I was in a rush to finish a design.   There has never been a similar issue with the SpaceMouse.   I had searched the forums and tried adjusting various graphic parameters but to no consistent result.
The two devices when bought as a package share the same USB wireless dongle.   Clearly the pair would be timesharing this data link so I thought this might be a data bandwidth issue.  I transferred the dongle to a high speed USB port (the ones with the blue insert).   I can't say this helped or at least there did not seem to be a correlated improvement with this move.
Of late I have switched the CadMouse off completely and reverted to my Logitech M705 wireless mouse with its associated USB dongle.   Fingers crossed this seems to have solved the problem.  The Logitech behaves well and is responsive to my mouse movements and there is no impact on the SpaceMouse when working on its own into its USB dongle.
Time will tell.
Similar or related subjects : –