Another Job Ticked Off
There are a number of lower cost CNC milling vices (vises) available on the market that do not have jaw geometry with grooves for tooling fixtures and vice stops.   Admittedly their jaws could be machined to add this facility but many of these vices have hardened jaws which presents more of a problem.
My CNC vice came from the UK supplier ARCeurotrade and is from their ARC Versatile SG Iron Milling Vices range.   I have the 100mm wide jaw version and the jaws are  just over 11mm (7/16″) thick.
I have a simple plate that acts as a stop  that is flush with the end of the jaws.  This makes use of existing holes in the vice body but often I need to have a stop internal to the jaw footprint.  Juggling then results with all manner of Heath Robinson solutions.
My design is simple and clamps onto the thickness of the jaws.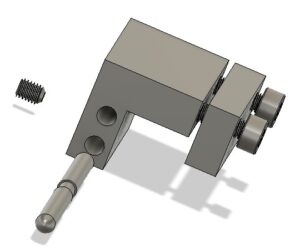 There are two M3 clamping screws and there is enough adjustment on these to allow a parallel to also be gripped should it be needed.

I allowed for two positions for the stop rod and the rod is held with a grub screw in each.   There is a central burr clearance neck on the rod so the grub screw does not damage the surface of the rod and make removal difficult.  Clearly the rod could be simplified to have just a single fixed position.
The rod can have rounded ends or it can have ball bearings glued into a cavity on each end of the rod.   The ball bearings would give a higher resilience to damage.
So nothing really complicated or rocket science with just an hour or so of workshop pleasure.   The size can be adjusted to suit your vice jaws and the material can be whatever is in the junk box.
Here is a link to the 2D drawings that were created in Fusion 360.
Similar or related subjects : –