I'm quite pleased with progress converting GSpark PCB gerber files to CNC with FlatCAM.   The conversion process is straightforward and the resulting GCode looks OK.
I have tried cutting copper using the cutters I have to hand but quickly realised I need to get some much finer ones in carbide.  My tests with modified dental burrs does not work or at least not for very long before the burr goes blunt and the cut width degrades.
I have ordered some 10 degree included angle 0.1mm wide cutters but they won't be here until February.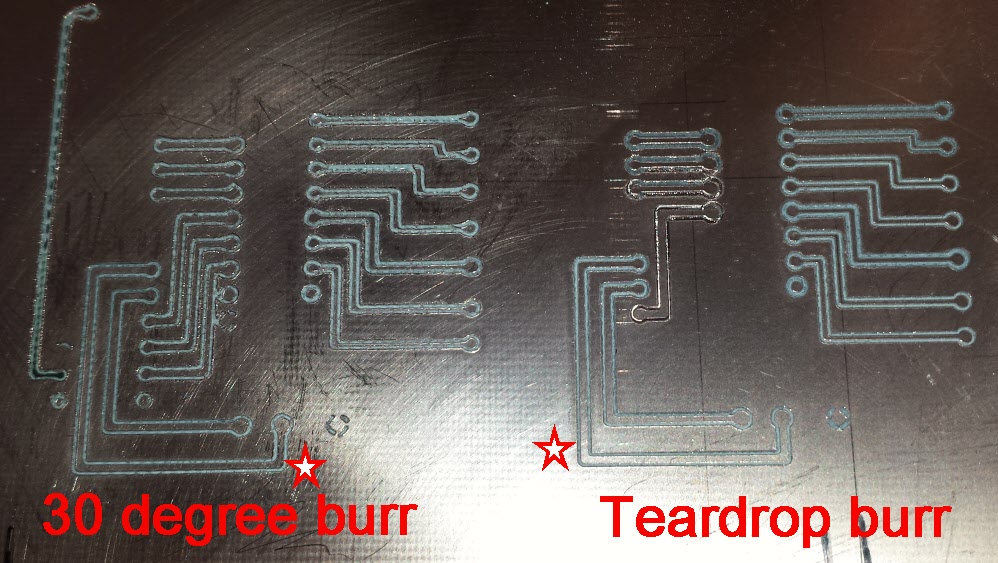 The picture shows two runs.   The left hand run used 30 degree cone shaped burr and the right hand run used a modified teardrop burr.   The initial cut on both was where the stars are.
The left hand cut left severe copper burrs which were easily removed using a scalpel blade flat to the surface of the board.
The right hand side was clean of all burrs but gradually degraded in quality as the cutter became blunt.
The teardrop burr was ground to half diameter in an attempt simulate a more normal engraving cutter profile.  I must have drawn the temper in the grinding process.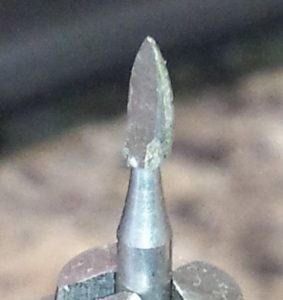 More experimentation needed once the better cutters arrive.
Similar or related subjects : –