Previously on Woody's Workshop … I had spent time trying to get a consistently level PCB blank clamped to the tooling table ready to mill the traces using CNC.   The results were not too bad but being anally fussy it left a bit to be desired, particularly if the board had a large area which magnified the variations.  
Any variation of the level of the PCB top surface will produce variable width cuts when using a V shaped cutter.   I had machined a clamping plate which was a simple open frame with a clamping step equal to the PCB thickness (1.6mm) and a sheet of MDF or hardboard as a sacrificial backing board. 
Despite having more clamping screw holes than a magazine burst from an AK47 I still ended with the corners of the PCB being a few thou lower.   Results were shall we say 'variable'.   I had reason to run a new prototype board this week and once again hit the same frustration.   In the end it was a sit and look at it and have a think session. 
The resulting revelation was maybe the sharp edges on the step are applying too much pressure ?  What if I were to be more gentle with the clamping ?  
I cut some strips of thin foam rubber and put this into the step such as to push down on the PCB.   As a quick test I only fastened the frame down using the four corner holes.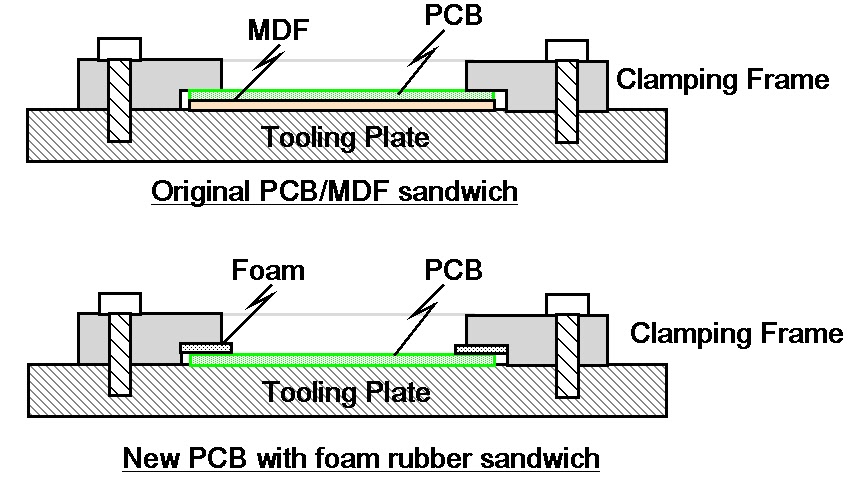 Absolute magic.   The PCB surface hardly moved the Hamer needle at any point on the surface.  Milling result was an artwork to be proud of.
Issues – the current step on the clamping frame is meant to clamp to a hard stop based on the sum of the PCB thickness and the sacrificial material thickness.  Adding the foam meant I had to do away with the sacrificial board.  The frame step therefore needs to be deeper.   The sacrificial material is essential to allow drilling to take place without breaking the drill as it runs into and potentially damages the tooling table. (For the board in question I drilled to only 1mm and then over drilled by hand off line to the mill).  
So a worthwhile bit of experimenting and hopefully a better result going forward  
Similar or related subjects : –