Maybe not the full shilling but functional
This concept was passed to me from a friend and is based on a design published by Ralph Patterson in 2007.   The idea was to make a mounting block and extension arm in metal to allow a vernier to 'stand up' and be used vertically.   My contact sent me the drawings.  I don't seem able to find any link to this or other files by Mr Patterson.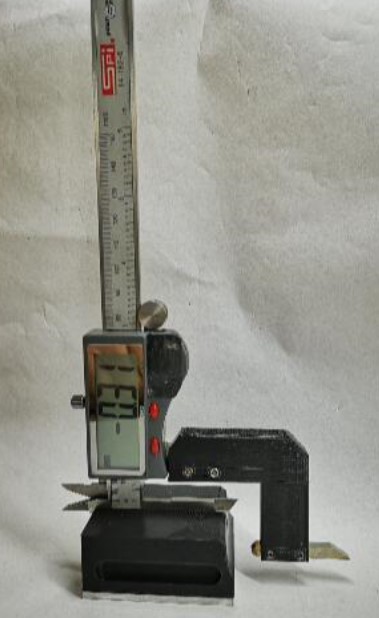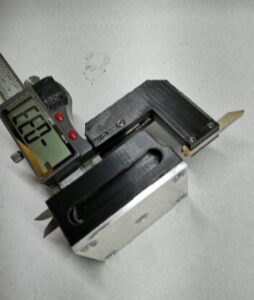 Entering the design into Fusion 360 did not take very long which indicates how well it was drawn originally by Mr Patterson.   There was one major modification however.   The original design was made from metal but our spin on it was to use 3D printed parts.   The base would therefore not have any really mass to keep it stable.   My friend suggested we added ballast in the form of lead shot into a cavity in the base.   I reduced the height of the base print by 3mm to allow an aluminium plate to be fitted to the bottom and added a honeycomb of holes into the base.   Once printed the honeycomb is filled with lead and the base screwed in place.   Conveniently and by fluke rather than design, the honeycomb holes will hold two slightly squashed 0.22″ air gun pellets.  This makes the base feel somewhat more solid on a surface plate.
The slot in the top of the base that takes the vernier is a tight fit on two of my verniers and the third one won't fit so care is needed in choosing the right vernier for the job.   That aside it works very well for a quick and dirty measurements.
If anyone would like the STL files then let me know on the blog email or post a comment.
Similar or related subjects : –