Adding a LAN connection and other small modifications
From the title you will have guessed that I could not resist the temptation to buy an X Smart 3 while they were on special offer at GBP299.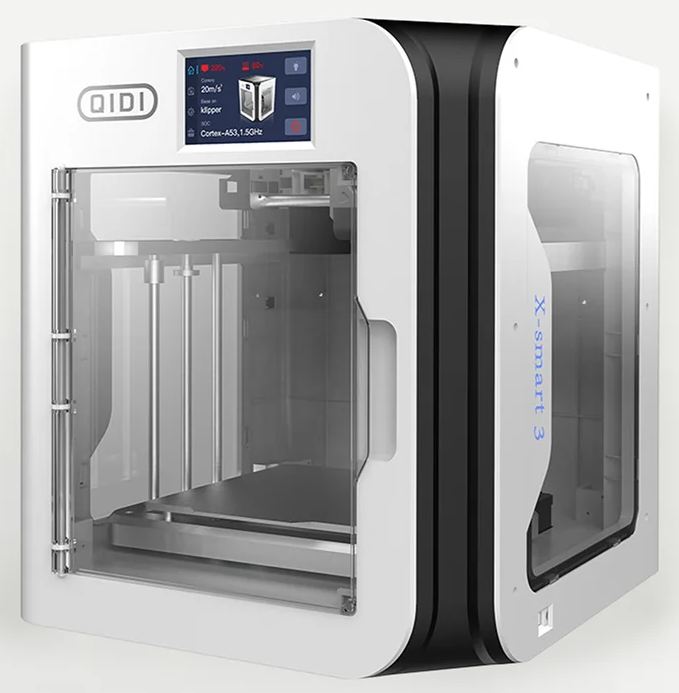 The X Smart 3 is a lovely little machine. It prints excellent high quality models at a very fast speed. My testing suggests around a third of the time as on my Qidi ifast but of course it has nothing like the same chamber build volume.
I have had some issues with the X Smart 3, some of which were finger trouble on my part and some that needed recourse to Qidi's excellent support team.
Attached to the link below is a ZIP file that has the full write up detailing my modifications to the X Smart 3 to add a LAN socket, modify the processor fan operation and to add extension feet to raise the body of the printer to allow more air flow. The ZIP file contains the PDF document and two STL files, one for the extension feet and one for a printed template to aid positioning the hole for the LAN socket.
Note that the LAN connection will not appear on the printer control panel but is visible by the Qidi Slicer application. The IP address allocated will be automatically defined and you will need an application like Fing to discover what this is. The control board will be discovered as a Raspberry board.
Since the above write up I have progress on a HEPA filter housing for the X Smart 3 rear fan. Below is a write up on this and some changes I also made to my i-fast
Links to similar or related post are listed below : –