Tormach MicroArc 4th Axis Arrives
At last a 4th axis drive for the Tormach PCNC440 !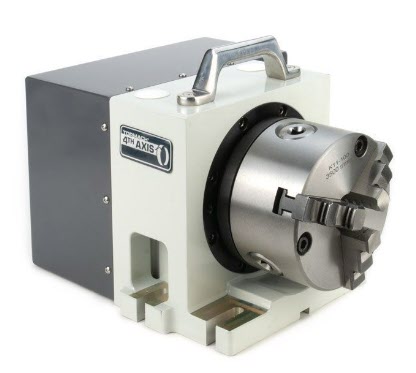 I have waited 4 years for this to be available and did not hesitate to put in my order to Tormach for one of the new MicroArc drives.  Probably the best way to get a good idea of this product is to watch John Saunders' video.
The MicroArc wasn't a low cost buy and because 4th axis was not around when my 440 was originally shipped, I needed a fitting upgrade kit as part of the order.   Having placed my order with Tormach it took exactly 7 days for DHL to arrive on my doorstep with the shipment.  Quite amazing considering the difficult times we are experiencing at the moment.
It took me about one hour to fit the new stepper driver and additional wiring.  As ever there were good clear instructions from Tormach.   I switched on the 440, enabled the 4th axis in PathPilot and I could control the A axis from the PathPilot screen.   Very impressed.
I watched John Saunders video on the MicroArc and how to do 4th axis programming in Fusion 360.  I drew up a simple model in Fusion but could not get it to produce working GCode.  I had some comms with John and he gave me some pointers.   The model had a rotational repeat pattern but while I could run a single op code, if I tried to run the rotational pattern the post processor came up with an error message and would not output any code.
I thought at first it was because I was only using a Fusion hobbyist licence and that 4th axis maybe was not possible.   A really helpful dialogue with Shannon McGarry at Fusion cleared up that issue so it must be something else.
After some experimenting I discovered that you have to set the axis of rotation in the post processor dialogue options list.   All then worked fine. 
We are up and running on 4th axis !
Similar or related subjects : –