Burgess BK3 Final Modification – Lower Blade Guide
This is the final piece in my Burgess BK3 bandsaw upgrade jigsaw.   Having successfully replaced the top guide with a double bearing assembly my attention turned to the lower guide.  Using the same principle as the upper guide I came up with the following assembly.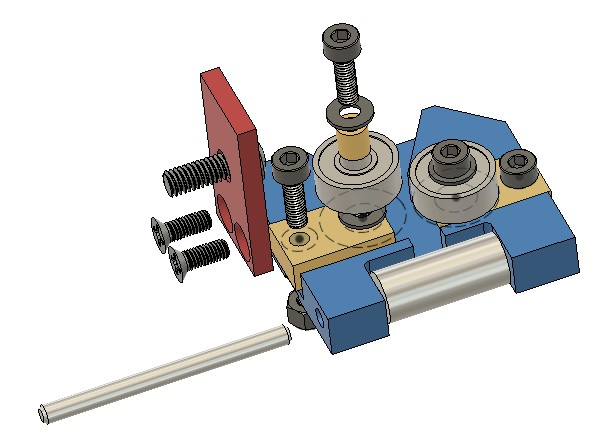 This seems to work well and is straightforward to implement.   The bearings are standard 1/2″ size parts from Bearing Boys.   These need a small brass bush to mount them on the sliding brass blocks.  The blocks need a single M3 washer to space the bearing from the block and the body.
The blade pressure roller is made from silver steel and can be heat treated to improve wear from the blade edge.
The mounting bracket arm picks up on the original M5 mounting screw concept.  The bracket could be milled onto the main body as a CNC operation but the two part assembly works fine and is very rigid in operation.
Here is a set of drawings for my BK3 lower guide assembly
The link below is a complete set of notes and drawings pulled into one ZIP file to cover all the modifications I have done and separately document in my blog and other author's notes that I have come across.  I hope that helps.
Updated file link to BK3 Modifications v2
Similar or related subjects : –