A really useful plugin to give a colour highlighted listing
I am a great lover of Notepad ++ as a text editor. It has so many useful facilities and I particularly like it for checking Arduino code when frustration has set in ( …. so quite regularly …). The default inbuilt colour highlighting makes errors stand out as obvious clangs.
By chance I stumbled across a XML file plugin for Notepad ++ that is dedicated to its use when editing CAD/CAM GCode produced by design programs such as Fusion 360. Normally I would use GWizard Editor by CNC Workshop for editing such code as this also gives a graphical representation of the tool paths being created. The Notepad ++ plugin does not give the graphical image but there is an additional comment on the download post suggesting that this might also be available. See the following link to the post for the download and for further details.
https://zero-divide.net/?shell_id=151&article_id=4809_notepad-absolutely-free-g-code-editor-with-code-highlighting
Here is an example screenshot of the resulting code listing as created with the plugin.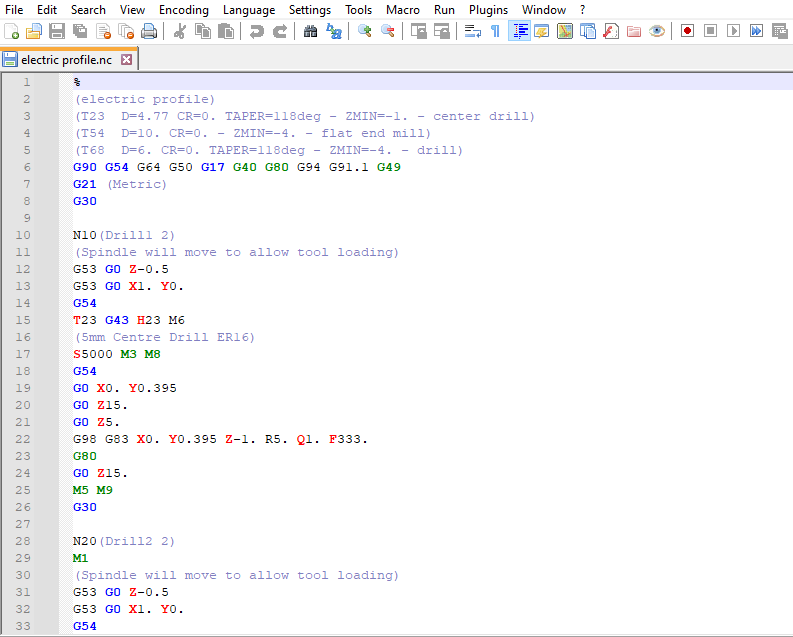 Links to similar or related post are listed below : –