A minor post but it might help someone.
I had a need to run an armoured cable down a duct to an outbuilding.   The duct had thoughtfully been installed a long time ago with the potential for use in the future.
The future arrived and it was a daunting cable run of over 25m.   Armoured cable is pretty rigid which helps on the straight runs but when it comes to bends in the duct it had a mind of its own.
After struggling for some time I had the thought that some form of leader was needed to navigate the bends.   After searching the workshop I decided a cable tie (zip tie) might be rigid enough but flexible enough.   I snipped the fastener ratchet block from the tie and taped the residual length to the end of the cable as below.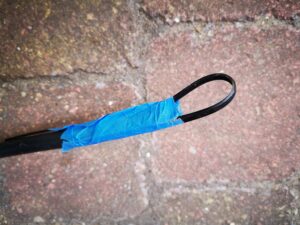 A liberal coating of DC4 silicon grease and the cable shot down the duct and round the bends like a rat up a drainpipe.
Similar or related subjects : –