I've made mention in another post of the arrival of the Tormach microARC to use on my Tormach PCNC440 CNC milling machine.   The microARC provides a 4th axis facility.
To date I have used this with the supplied chuck but there have been a couple of instances where a vice style stock mounting would have been useful.  I am indebted to David Loomes for bringing the Xin Dian centralising vice to my attention.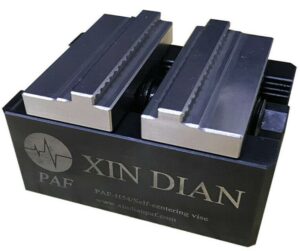 This is available from various sources on the Internet and at a delivered price of less than GBP100.   It is a lovely little vice.   It is supplied with an industry standard backing plate which is held in place with four M6 cap head screws.  The supplied backing plate is not suitable for mounting on the microARC .
A 3D model of the microARC is available as a Fusion file and this with some careful measurement allowed me to model a mounting plate for the Xin Dian to fit onto the microARC face.
As a secondary activity I edited the Fusion file to provide a simple sub-mounting plate for the Xin Dian vice on my PCNC440 tooling plate.
Details of both these mounting plates are contained in the PDF link below.
Similar or related subjects : –