Working on small items requires me to use optical magnifiers such as the Rolson one with swap out lens.   These inevitably pick up scratches and other marks.
I recently bought some Polywatch polish from my clock parts supplier to polish a plastic clock dome which was looking pretty rough.   Polywatch transformed it to the point of where it looked almost new.
You can buy it on Amazon.
Today I tried Polywatch on my favourite Rolson Headmagnifier lens and I can now see what I am doing once again.  Worth remembering.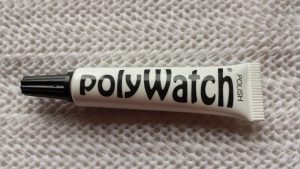 Similar or related subjects : –